A&A Alta Cucina Italia an authentic taste of Italy
A&A Alta Cucina was founded to provide an authentic taste of Italy by transporting the senses to Italy for those far away.
We enjoy developing gourmet Italian foods using treasured family recipes and traditions. We use only the finest natural local ingredients that allow us to offer the best tasting blending seasonings, infused olive oils, award winning balsamic vinegars, tomato sauces, pestos & balsamic jams that you will ever experience so now you can easily prepare traditional authentic Italian dishes in mere minutes!
All our products are handmade in the artisan way and produced in small batches, using our old traditions and family recipes that allow us to put the Italian passion for food in each of our products.
Come enjoy the authentic Italian difference!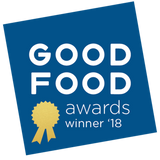 Testimonials
If you're a garlic lover, this is a kitchen staple!! This Infused EVOO with garlic is so delicious!! I will definitely be buying his religiously.

Lindsey
Pestos were so good I wish they came in bigger sizes!

Mary
Quick delivery and delicious oil and balsamic! You can tell she loves doing what she does! Thanks so much for everything!

Chris
Packaged with care and love. Very pretty packaging. Super fast shipping! Wonderful customer service. I will buy from this store again.

Sara
It's fantastic! I especially like the Fig Balsamic as a dressing on salads. My large order shipped very promptly and I was excited to see some extra herb salt mixed in. Packaging was done really well to ensure safe shipping, too!

Alice
This tomato sauce was delicious all on its own! I dipped veggies in it and had it as a pasta sauce! It tasted fresh and not sugary-sweet like so many! Adriana was responsive and prompt even around Christmas! She was personable and kind in her communications! I will order this product and others from her in the future.

Shawn
This is a delicious pesto. It's artichoke hearts, fresh squeezed lemon, garlic and parmigiano reggiano cheese. I love this one to spread on bread, or to use in pasta or rice. I so much appreciate the recipes you included with my purchases, which were shared at our Wine and Cheese tasting. I love to cook, and you've inspired me to do a new dish on the holidays! Thank you, and I'll be back soon!

Amy
One of my favorites! This pesto is Sundried Tomatoes, Italian Extra Virgin Olive Oil and italian herbs. I had to buy extra jars for our wine and cheese tasting because I knew guests would want some to take home. It's spectacular! I love tomato and this is sooo good. Your jars and packaging are so authentic Italian too. I love that. Thank you!

Amy